Welcome.
I am Ms. Christy an Inspirational Writer and Coach. I provide high quality coaching, mentoring and training strategically designed to support individuals experiencing major life changes. My area of expertise include Life Transitions. 
Let's be honest, it's not always easy to "let go", "get over it"  nor  "move on" when certain situations come to an end in our lives. The impact of those situations can leave us feeling a sense of loss, reduced self-worth and discouragement. We may go through periods of feeling "stuck" and uncertain how to move forward. It can also negatively affect our personal and/or professional productivity.
I've personally been there. In fact, many individuals have, regardless of one's economic status, profession, ethnicity, beliefs, or level of success. Life and hardships affect us all.
While some situations cannot be prevented, with the right tools and support, we can learn to accept change and eventually move forward in our lives.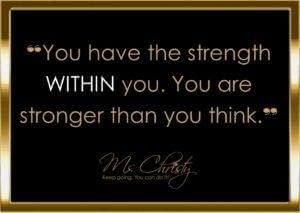 Yes, it's okay to "not be okay" sometimes. It's okay to just sit for a moment and just breathe, cry, vent, etc.
I also want you to know, someone believes in YOU, your strength and ability to overcome. I would be honored if you allow me to use my extensive education and training to mentor and coach you. You don't have to face this alone. Together, we will address the obstacles and develop a plan that moves you forward.
Visit the Services tab to view my current offerings. I look forward to working with you. 
Respectfully,
Ms. Christy | Keep going. You can do it!