Welcome.
I am Ms. Christy,  an Inspirational Writer,  Life Transitions Coach and HR Professional. I provide highly effective professional coaching  strategically designed to help women realign with their purpose after major life changes.
Let's be honest, it's not always easy to "let go" or  "move on" when certain situations come to an end in our lives. We may feel "stuck" and uncertain how to move forward. The impact of loss can affect our mental health leaving us feeling a sense of loss, discouragement and sometimes a reduced self-worth. It can also negatively affect our personal and professional productivity and relationships. Not to mention our daily responsibilities and obligations remain, despite the challenges we face. 
I've been there. In fact, many others have. Regardless of one's socioeconomic status, ethnicity, religious or political beliefs, life and hardships affect us all.
It's okay to "not be okay" sometimes. It's okay to sit for a moment, breathe, cry, vent, etc.  I also want you to know, someone believes in YOU, your strength and ability to overcome.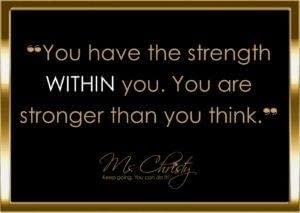 While some situations cannot be prevented, with the right tools, strategy and support, we can successfully navigate change, realign with our purpose and move forward in both our personal and professional lives.
If you are experiencing a major life transition that is negatively affecting your personal and/or professional productivity and relationships, you don't have to face this alone. I'd be honored to partner with you utilizing my extensive education, training and experience to help you realign with your life's purpose. With my track record of great integrity, professionalism, and proven ability to produce desired results, we will confront and navigate through the emotional challenges preventing you from moving forward in your life.
Visit my Services menu to view my current offerings.  
I look forward to working with you! 
Respectfully,
Ms. Christy | Keep going. You can do it!